Aarki has built an automated network for its five global data centers as part of its hybrid cloud infrastructure strategy that allowed to save 90% of TCO while preserving the agility.
Background
Ranked 58 on 2019 Deloitte's Technology Fast 500TM, a ranking of the 500 fastest growing technology, media, telecommunications, life sciences and energy tech companies in North America, Aarki is a leading online advertising company that uses big data to construct predictive user models for targeted advertising. It delivers superior results using proprietary machine learning technology for performance optimization. The company's customer base includes leading brands, agencies, and app developers.
The main challenges in data center networking for Aarki were:
Abstract away from operational complexities of network infrastructure

Scale the infrastructure fast without increasing load on engineering teams

Improve efficiency in terms of total cost

Mix and match hardware from multiple vendors

Apply programmatic DevOPS approach and achieve cloud user experience
   Aarki adopted automatic networking technologies from Netris to address these challenges. Netris has enabled Aarki to operate complex physical networks just like it is a cloud. After successful adoption of Netris at their Hong Kong data center, Aarki arrived at the decision to convert to Netris at all 5 data centers (New York, Silicon Valley, Virginia, Hong Kong and Amsterdam).

Solution
Operations.

Netris has modern cloud UX for defining services and policies without the need to worry about implementation details. Netris automatically configures Aarki's physical network in accordance with Services and NetOps policies they define. (

Netris controller docs

)

Monitoring

. Netris continuously monitors the health of the network and either applies software remediation or informs Aarki of necessary actions if human intervention is required. There's no need to configure monitoring.

Border routers

. Netris provides means for using an X86 server as an automatic

high-performance router

capable of handling full Internet routing table, L4 load balancing, NAT, and VPN functions. Mellanox ConnectX family NICs are

known to be the leader in DPDK performance

. 

Switches

. For achieving best scalability and performance on switching layer Aarki has built automatically operated (

Netris agent doc

) leaf-spine topology using OCP (OCP accepted and OCP inspired) switches from

Mellanox

,

Edge-core

and Dell.  

NOS

. Since Netris abstracts away entire NOS configuration and monitoring Aarki benefits from opportunity to freely select across commercial (Cumulus Linux) and free operating systems (free Linux distro with the open-source

SwitchDev

driver or

DENT

)

Support

. Netris provides 24/7/365 technical support for entire network stack, including open-source and commercial components. 
Comparison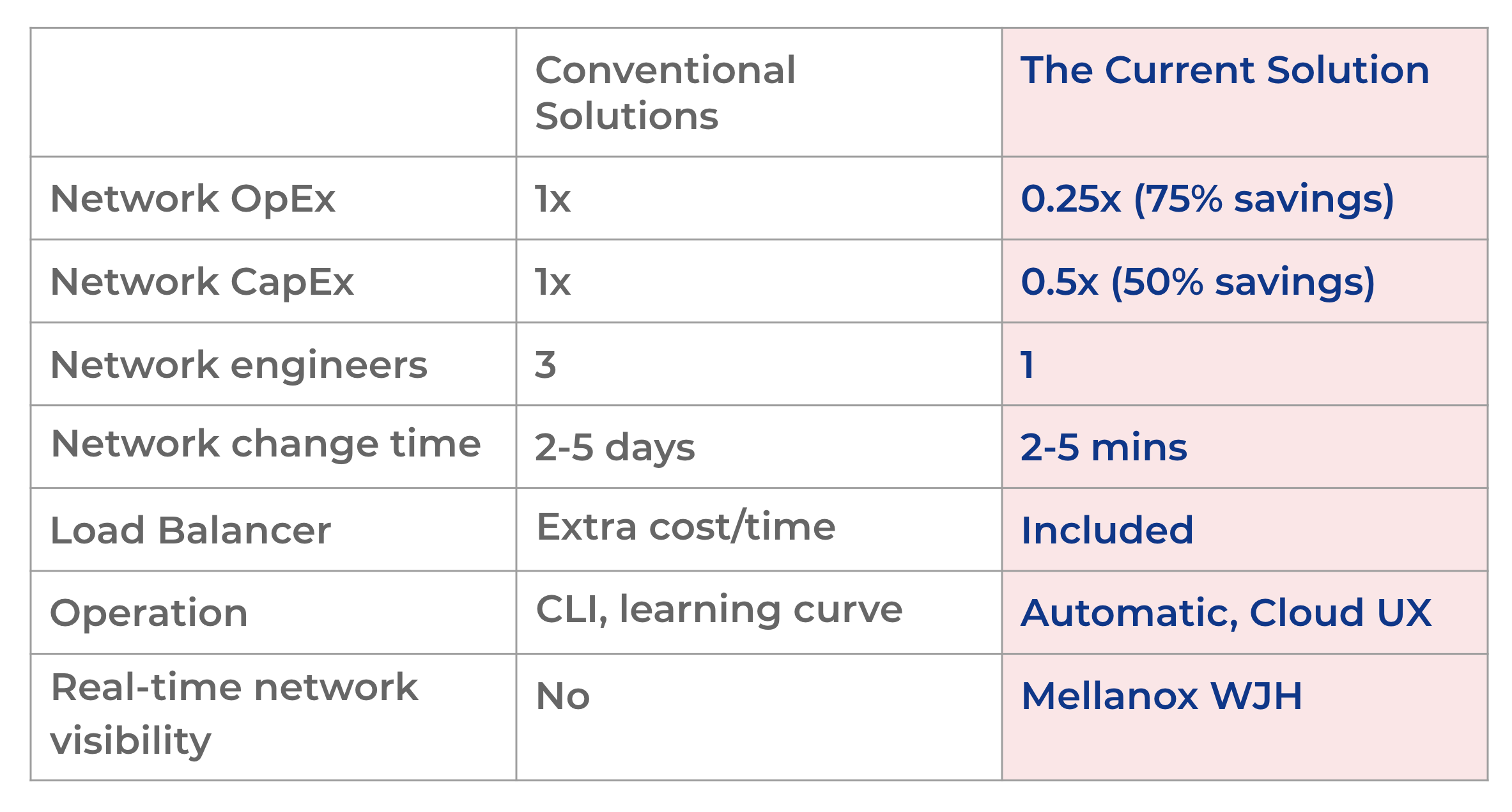 "Aarki has been rapidly growing over the last few years," said Mark Kalygulov, VP of Engineering at Aarki. "We had to expand our datacenter presence very quickly. Going from a couple of cabinets to multiple cages with hundreds of servers in data centers all across the world looked like a very expensive and complicated proposition with traditional networking stacks. Fortunately, modern open networking solutions have proven to be highly reliable, scalable, and able to deliver exceptional performance required in the world of RTB. With the help from cutting edge hardware partners such as Mellanox and network automation innovators Netris, we are deploying infrastructure quickly and with minimal investment."
About Aarki
Aarki is a leading online advertising company that uses big data to construct predictive user models for targeted advertising. Aarki helps companies grow and re-engage their mobile users, using machine learning (AI), big data, and engaging creativity. We strive to deliver performance at scale across different marketing objectives to meet the target return on investment. Our data offer deep insights into user intent and usage habits. To drive performance, we activate our data assets through proprietary machine learning algorithms and engage users in real time with personalized creative. Aarki has been recognized by The American Business Awards, Red Herring 100, Internet Advertising Competition, Deloitte's Technology Fast 500, The Drum Advertising Awards US, Horizon Interactive Awards, Effective Mobile Marketing Awards, and The Wires by Exchange Wire. For more information, please visit www.aarki.com or follow us on Twitter: @aarkimobile
About Mellanox
Mellanox Technologies (NASDAQ: MLNX) is a leading supplier of end-to-end Ethernet and InfiniBand intelligent interconnect solutions and services for servers, storage, and hyper-converged infrastructure. Mellanox intelligent interconnect solutions increase data center efficiency by providing the highest throughput and lowest latency, delivering data faster to applications and unlocking system performance. Mellanox offers a choice of high performance solutions: network and multi-core processors, network adapters, switches, cables, software and silicon, that accelerate application runtime and maximize business results for a wide range of markets including high performance computing, enterprise data centers, Web 2.0, cloud, storage, network security, telecom and financial services. More information is available at www.mellanox.com 
About Edge-Core
Edgecore Networks Corporation is a wholly-owned subsidiary of Accton Technology Corporation, the leading network ODM. Edgecore Networks delivers wired and wireless networking products and solutions through channel partners and system integrators worldwide for data center, service provider, enterprise, and SMB customers. Edgecore Networks is the leader in open networking providing a full line of 1GbE, 10GbE, 25GbE, 40GbE, 50GbE, and 100GbE open and OCP switches that offer choice of NOS and SDN software for data center, telecommunications, and enterprise network use cases.